Chatbots improve business results and have a positive impact on customer experience
Chatbots and its usage are increasing in the world, thanks to the growing demand of consumers for a 24/7 digital experience and also for reducing operational costs by improving the performance of companies. According to a research from April 2021 by Grand View Research, the use of chatbots is expected to grow 24.9% from 2021 to 2028 worldwide.
Chatbots are designed to interact with humans in text-based conversations. They are based on Artificial Intelligence and Machine Learning, technologies that are being improved, with a final cost that is increasingly attractive, what helps companies to use them more and more.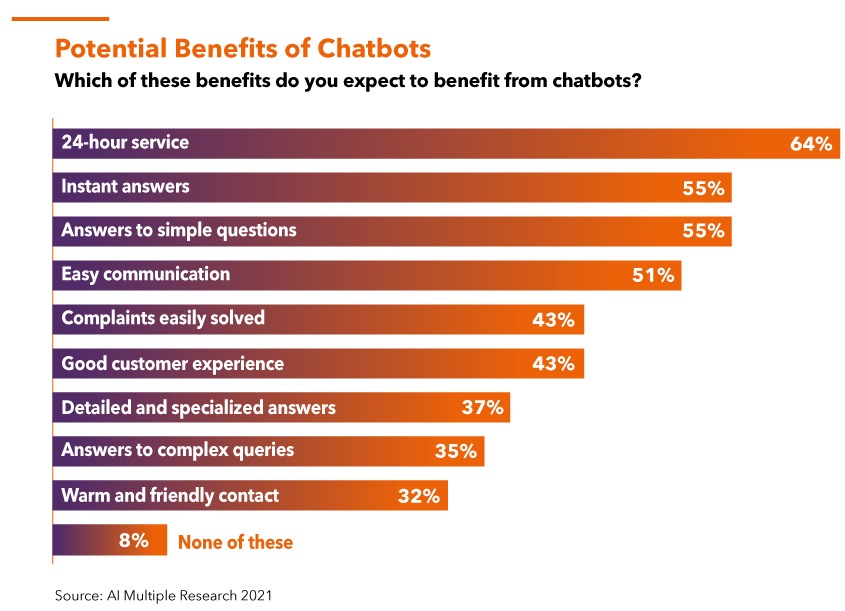 Why to adopt?
Consumers do not have patience to wait for a service and want it to happen at any time, not just during business hours. Chatbots are the most viable option to solve this problem, as they can instantly answer thousands of questions at once, providing continuous communication with the customer. Obviously, it is necessary to invest in a high-quality chatbot: there is no point in having a system unable to understand and solve the simplest requests. Systems like this do not add value to the company; on the contrary, they only bother the customer.
Chatbots should give consistent answers and can pass on to a human attendant those more complex requests. A chatbot can also access the history of interactions with the company and offer a personalized experience, something still not widespread, but that is certainly essential when serving the consumer.

Olos Chatbot
With the significant increase in customer service calls, it is necessary to look for solutions that meet this demand with high quality and efficiency. Olos Chatbot can be integrated to our omnichannel platform, OlosChannel, which brings together in a single suite all the customer service channels provided by your company, such as WhatsApp, Facebook Messenger, SMS bot, Skype, Telegram, and also the website Webchat.
Our solution allows the development of customized chatbots, according to your business. We use predefined and customized dialogues to promote self-service through natural language integrated to Artificial Intelligence. We also create personas, with a customized name and profile, generating greater identification with the brand and better affinity for a relationship.
As we work with an omnichannel platform, all service channels can be integrated. Thus, the history of the service is stored even if the conversation with a customer has started by SMS and ended in WhatsApp, for example.
The automation of customer relationship with chatbot integrated to omnichannel platform allows companies to provide customer service in extended hours, with more efficiency, agility and at lower costs. And more: when used in an efficient manner, automated customer service via chatbot has a positive impact on the customer experience and improves the company's results.
Read also: Why to adopt an omnichannel approach to customer relationships? 
Improve the customer experience! Contact us.