With our Olos Outbound solution, your campaigns will have a higher return!
Do you have outbound campaigns to put on the air? Do you want to do active prospecting, with phone calls to approach potential clients and generate sales?
Olos offers a solution that encompasses all the steps for your campaign to be a success.  We start by gathering data, with automatic cleaning and testing of mailings, with the planning and the definition of strategic plans, through action, simplified management with dashboards and customized reports, and finishing with multichannel optimization.
Each stage is supported by exclusive Olos innovations, created to ensure more efficient campaigns for our clients.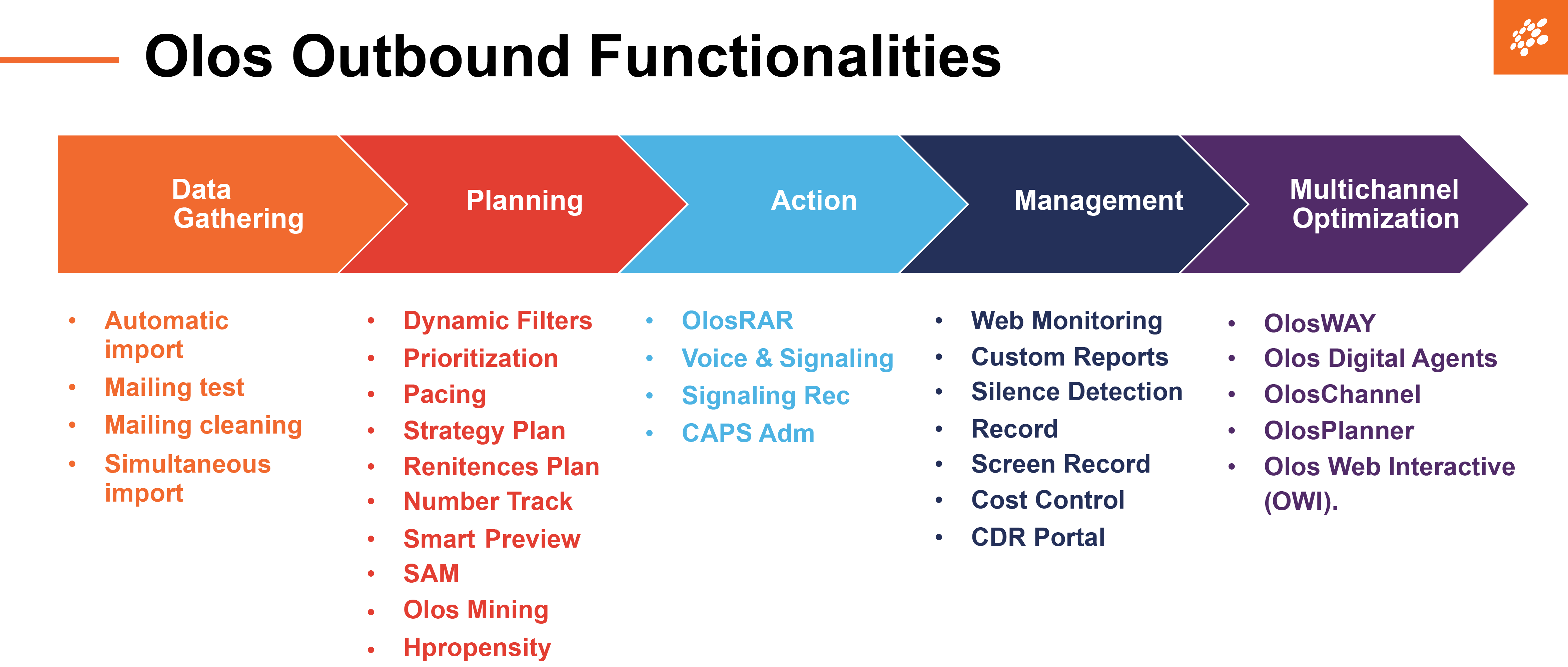 Data Acquisition – Our dialer imports and cleans the database, leaving it with only valid numbers through a signaling exchange procedure with the operator. The entire database to be dialed is classified in valid and invalid numbers, which makes the whole operation more agile and efficient.

Planning – Enables strategy designs using any mailing field or telephone type. It is possible to establish filters, priorities and a renitence plan, determining automatic callbacks with different priorities and treatments between landlines and cell phones. With the Number Track resource, there is the interpretation of data related to contact attempts and successes, day after day, keeping a history of customer behavior and verifying which is the preferred time for the next attempts for each customer profile. The outlined strategies are automated, in order to optimize the planning staff's work and promote a campaign with higher return on base.

Action – In this stage the features include RAR (Retry at Alternative Route) to trigger alternative routes automatically in case of failed call attempts, which means lower telecom costs. You can also use the audio channel and the signaling channel simultaneously for call detection.

Management – You can monitor the campaign by accessing the Olos platform via the Web, at any time, from anywhere. You will also have customized reports by campaign, mailing, agents, among others, as well as service metrics and call recording, facilitating the management and monitoring of calls in real time and guaranteeing a complete management.

Multichannel Optimization – The Outbound solution is integrated to the other solutions offered by Olos, for a comprehensive relationship with the client, done through voice channels, bots, chatbots, digital agents, e-mail and SMS, or also integrated to a self-service platform. This means that, in a call, it is possible to direct the caller to close a purchase, for example, in a website with self-service, or to send SMS messages to those who have not decided about buying or not.
At Olos, your campaigns can gain more efficiency and better results. Our Dialer system is awarded and recognized as the best in Brazil.