The 10 most preferred customer service channels and the strategy to use them.
Advances in the digital world have expanded the channels for customer service. Social networks, chatbots, virtual attendants, besides the good old telephone, among others, represent a possibility of easier communication with the customer, but they are also a challenge for companies.
How to be present and accessible in so many channels, offering a quality, personalized and efficient service?
The answer lies in improving the strategy for customer service channels, understanding the difference between omnichannel strategy and multichannel strategy.

Omnichannel x multichannel, what is the difference?
Many companies believe that they are offering an omnichannel service just because they are present in different channels. Not exactly!
Multichannel – Multichannel means being in channels where consumers are, providing different forms of access and communication. Thus, the consumer can contact the company through telephone, chat, Whatsapp, Facebook Messenger, e-mail, etc.
Omnichannel – In this case, the channels are connected, so that the history of the conversation with the same customer is gathered, regardless of the channel in which it happened. This means that a client can connect to the company through WhatsApp, send a document through email, receive a phone call from a human or virtual attendant, and finally an SMS to evaluate the service – all unified and registered on the same platform.
The omnichannel strategy goes beyond multichannel: it focuses on the customer journey and provides a better experience and a more personalized service.

The consumer's preferred channels
In 2020, when much of the planet's inhabitants were confined to home, messaging apps like WhatsApp and social networks gained popularity as communication channels with businesses.
What else has changed? Check out this graph made from research by Salesforce: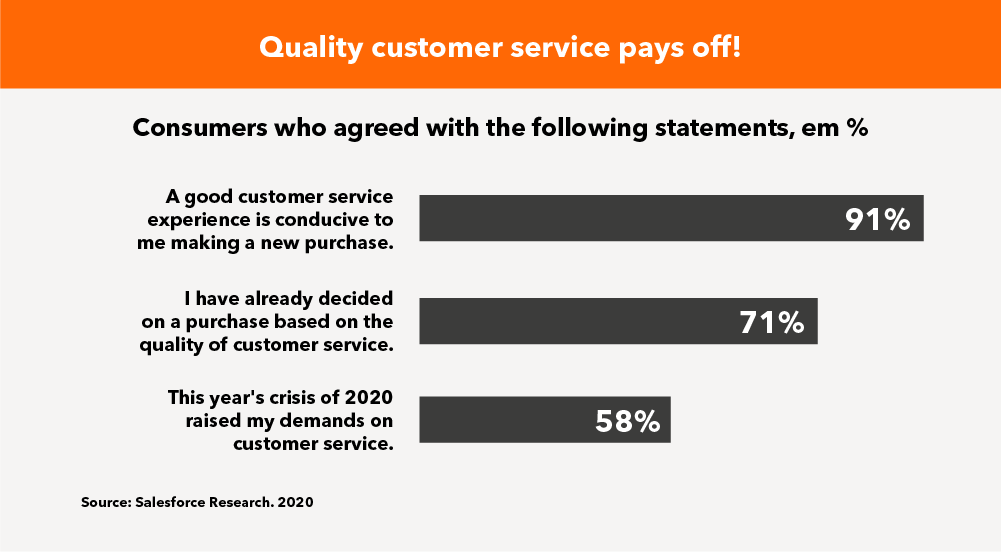 In 2020, video customer service gained adopters, as shown in the chart above. It was not a commonly used channel before the pandemic, but now that we are used to even making medical appointments by video call, this channel may grow from here on out.
Face-to-face care, of course, fell in 2020. After all, we had a period of estrangement, while telephone attendance went up. What hasn't changed is e-mail: the consumer seems to like the idea of leaving a record, in text, of what he has to say.

It's worth investing in
There was a time when consumers sought products for their quality and price. Today, however, we know that good service is determinant for a company's success.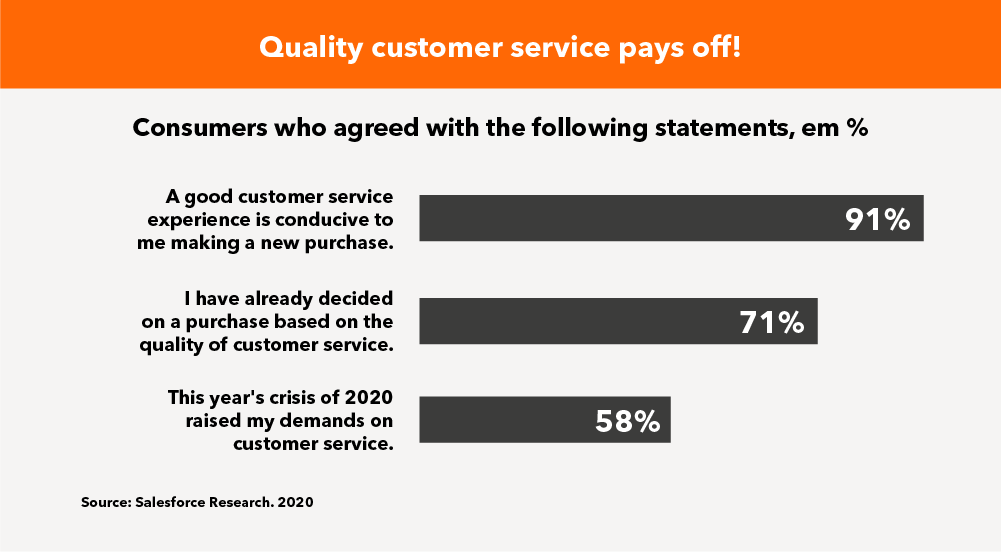 89% of consumers in 27 countries, including Brazil, said they are willing to make a new purchase after a positive customer service experience. (Salesforce Research)
Companies can increase revenue between 4% and 8% above the market average when they prioritize a good customer service experience. (Bain & Company).

Olos' Omnichannel Platform
Olos has an omnichannel platform, OlosChannel, which integrates in a single suite several channels from the world of voice and text, in addition to the use of digital agent, SMS bot, chatbot, social networks, email, audiovisual attendance etc. The consumer can start requesting something in one channel and finish in another, with all the service path consolidated in a single place.
Our technology relies on the use of Artificial Intelligence that understands the request and interacts both by voice or text with the consumer through a bot, as a human agent. This represents great agility in the service, made in a personalized way and with great experience and customer satisfaction.