Surprise your guests with 6-star service
The COVID 19 pandemic was ruthless on the hotel network. With people in lockdown in their own homes, borders closed, and trips unbooked, hotels have suffered considerable losses. But the recovery is already underway, as the industry prepares to resume activities to meet demand.
If you are in charge of a hotel or resort, you should know that:
81% of travelers want better digital customer service (Source: PwC).
Investing in technology results in 135% increase in online bookings and 71% reduction in guest complaints (Source: PwC).

Competitive Edge
The hospitality market is highly competitive, with more than 700,000 hotels and resorts worldwide. There is also a growing supply of accommodations available through Airbnb.
To attract, retain, and retain customers in such a competitive scenario, you need to provide quality service and a great experience across all relationship channels.
Keep in mind that a potential guest starts researching a hotel on social networks or on the internet, then follows up with a communication that can start by chat, migrate to WhatsApp and end in an email, for example. From the reservation request to the evaluation of a service, the relationship is omnichannel, flowing from one channel to the other, which demands a communication structure in different channels.

Omnichannel communication transforms the customer experience
Be prepared to offer an omnichannel relationship if you want to provide excellent service in the digital age. It is a trend that is expected to grow year after year, following increasingly widespread habits of using different channels to contact a company.
Among young Millennials, who are now in the 25-40 age range, 74% use their smartphone to research travel and accommodations (Condor Ferries, 2020) and 64% use the device to make a hotel reservation (PwC, 2019).

OlosChannel
Olos offers the OlosChannel platform, a complete and integrated solution that allows you to revolutionize the customer experience. It includes voice solutions (dialer and DAC), active IVR, inbound service, Digital Agent, SMS bot, Chatbot (WhatsApp, Facebook Messenger, Skype, Telegram, e-Mail and etc), and other communication channels, all integrated.
OlosChannel counts on data intelligence for analysis and planning, storage of the attendance history and counts on Artificial Intelligence resources. This way, it allows the client to get in touch, for example, through Webchat or by phone, to continue his journey through WhatsApp and finish the service through e-Mail, being served in a personalized way and with all the service history, regardless of the communication channels used, besides integrating the automated service with the human service to solve more complex doubts.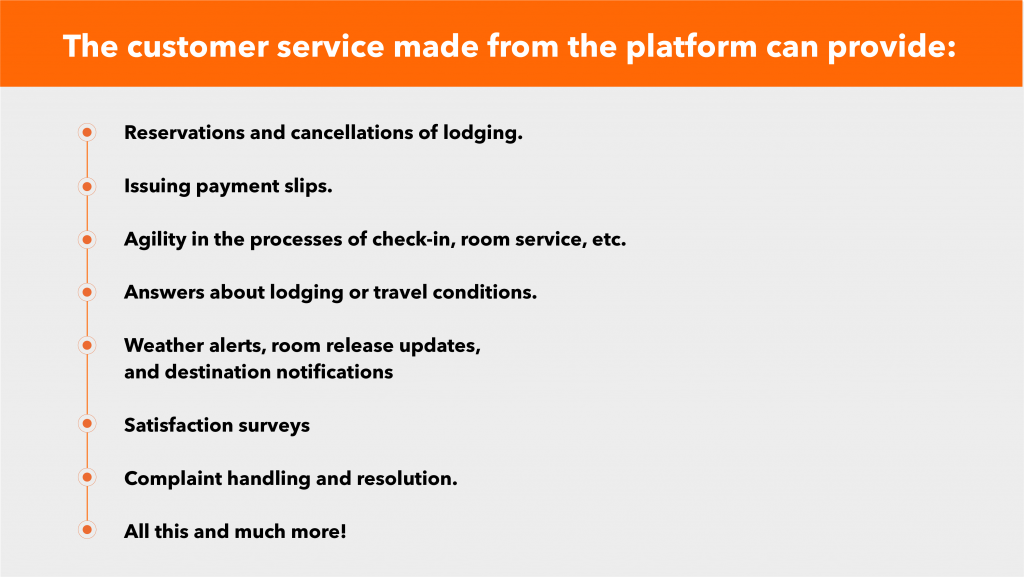 From the management point of view, OlosChannel allows to speed up the attendance processes and optimize the teams' productivity. There are resources to perform collection functions, sales demos, negotiations, and data collection. With the automated service there is still an advantage: at any time customers can contact us, ask questions, and make reservations.