Why take an omnichannel approach to customer relations?
Years ago, when a consumer wanted to contact a company, all they had to do was pick up the phone and call 1-800. Now, in addition to the phone, they can send a WhatsApp, an Instagram or Facebook message, they can chat via Webchat, email, and the list seems endless. The omnichannel relationship increases a customer's touch points with the company. But organizations that adopt it do more than just extend their reach. They also increase customer conversion and retention, with significant impact on company revenue and customer experience.
According to research by the Aberdeen Group, companies that provide consistent customer service across different channels achieve an 89% customer retention rate, while others can retain only 33%.  And there is also the active communication: companies have used different channels to contact customers and to prospect new ones: banks and credit cards, for example, send SMS to alert about financial transactions; clinics confirm appointment times by message; collection companies look for debtors by phone call, etc.

Omnichannel strategy
Using different channels brings great advantages and a complexity that must be overcome: it is necessary to manage these channels and treat the conversation of each customer in a unified way, no matter if it starts on one channel and ends on another. And this is only possible with an omnichannel platform, which allows you to personalize, simplify, and integrate the points of engagement to create a single and consistent conversation with each customer.
An omnichannel relationship strategy unifies all messages with a customer across all available communication channels. This is essential, as more than 90% of consumers use multiple channels, switching from one to another throughout the day, including when making a purchasing decision. Have you ever seen someone buying online to pick up in a physical store? Or someone who accesses a company's chat room to ask questions before closing a purchase? These are increasingly commonplace scenes. And they mean that being accessible through a variety of channels allows companies to have a better chance of establishing successful communication.
Our OlosChannel platform was developed with the purpose of providing an innovative customer experience. Whether for customer service, billing or sales, the platform provides all the channels your company needs to promote the best relationship with the customer, in an integrated way, with assertive and personalized communication.
With OlosChannel it is possible to contact a client by sending an SMS message and, if the client does not respond, to keep trying with a WhatsApp message, an e-mail, a phone call, and so on. The customer will respond in the channel where he is most active and where he feels most comfortable. For the company, this means a higher rate of effected conversations. And, since the channels are integrated, there is no duplication of data, the same things are not asked in different channels, nor is it necessary to upload information from one channel to the other.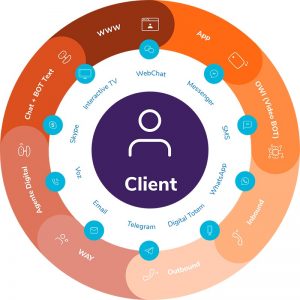 With OlosChannel, there are several channels integrated within the voice and text worlds:
Phone;
E-mail;
Chatbot;
Call dialer;
Outbound, inbound or blended attendance;
SMS bot;
Digital multimedia agent;
Social Media (Whatsapp, Facebook Messenger, Telegram, Skype etc).
Reasons for adopting OlosChannel
OlosChannel counts on the best technology resources for customer care automation, with cloud operation, artificial intelligence, storage of customer care history, data intelligence, besides integrating voice and text communication. Our resources allow:
Greater communication assertiveness – Use of efficient communication solutions for service sales, customer service, post-sales, questions, loyalty campaigns, collections, among others.
Customer journey mapping – Access to the complete history of the customers with your company, no matter through which channels they have made contact. It has unified reports and journey mapping.
Channel integration – The approach can be initiated by one channel and followed by another, without losing the history and guaranteeing contact fluidity.
Reduced service time – Customers associate shorter waiting times in service interactions with a greater sense of convenience and that the company values their time. The faster and more consistent the solutions and responses offered; the more satisfied customers will feel. 82% of customers rank a fast response time as the most important aspect of any interaction.
Reduced operational costs – An omnichannel approach allows customer interactions to be done by bots. Automation is great for handling customer interactions with great agility, reserving only the most complex interactions for humans. This means leaner teams in contact centers.
Better customer experience – This occurs in three of the main satisfaction factors: response time, resolution time, and status updates on the progress of their inquiries. When implemented properly, the omnichannel relationship has an almost immediate positive impact on customer satisfaction and retention.

Smart solutions integrated with OlosChannel
The OlosChannel platform has a suite of technology solutions that make customer service easier. Its adoption will help you consistently create successful customer experiences, exceed expectations, and enhance your brand reputation through positive recommendations.
Real-time management and monitoring
Complete control panel with reports, call recording, as well as real-time call management and monitoring. This ensures complete management of the operation.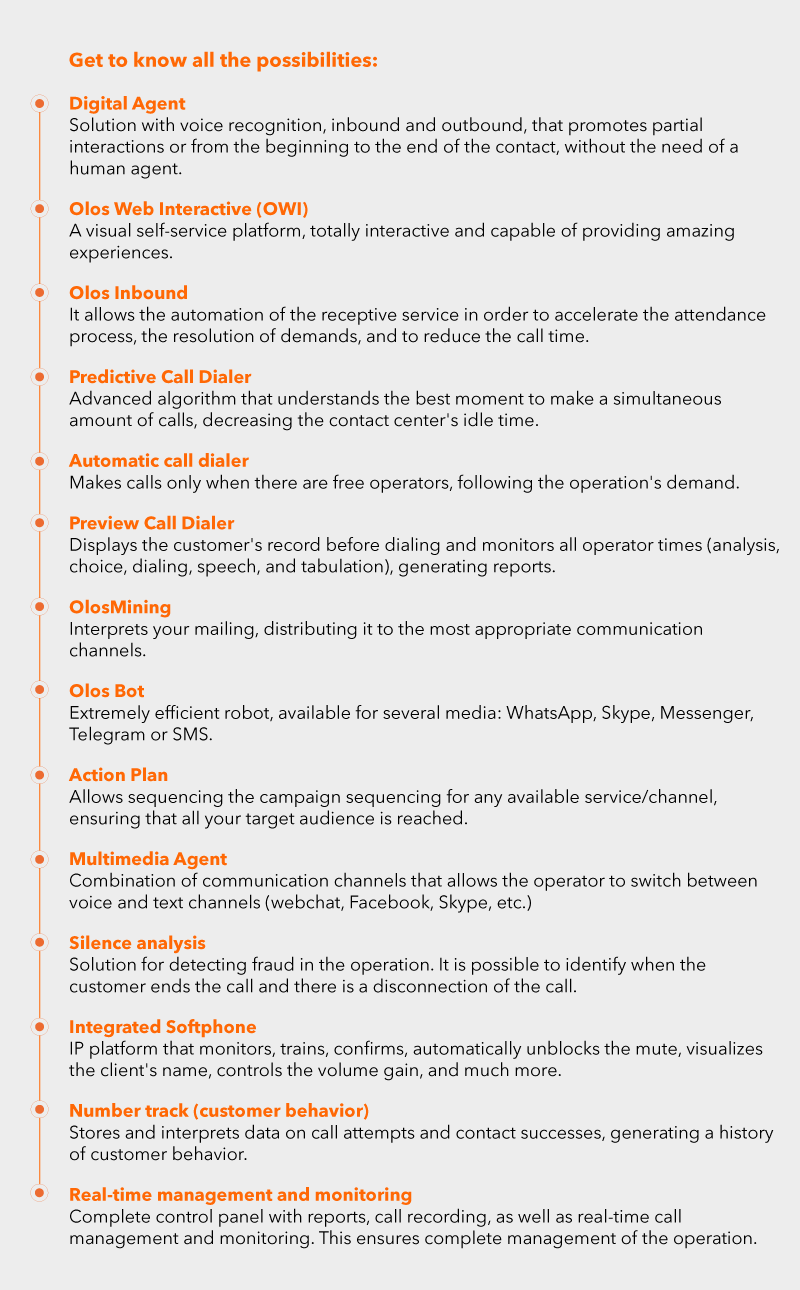 The OlosChannel functionalities listed above are easily adjusted, according to each company's needs, with contracts made in SaaS (Software as a Service) model. And there is yet another advantage your company can count on: our platform is multi-language, and can be used in English, Spanish, and Portuguese.