E-mail is still an important customer relationship channel. Shall we take advantage of it?
Nobody can question it: we need to promote a good customer service. There are several channels for this communication to happen and, lately, online chats are among the most popular options. Many companies are adopting chats to ensure that questions are resolved in real time. But are chats enough?
Let's look at a HubSpot Research survey, which heard 1000 consumers from different countries. When asked how they would like to communicate with Customer Service, 62% answered by email, 48% by phone, 42% by live chat, and 36% said they preferred Contact Us forms.
In the same survey, when asked how they would like to communicate with a company's sales area, consumers mentioned other channels: 53% answered by the website, 39% by phone, 34% by Contact Us form, and 33% by live chat.
This means that, depending on the reason for the contact, the consumer prefers one channel or another. If they are in a buying process, for example, they want quick communication through the website, by phone or chat. But if they want to use customer service, good old e-mail still has the preference of the majority. Truth be told: e-mail is a channel that will not be abandoned any time soon. Therefore, it is worth having it active and making good use of it.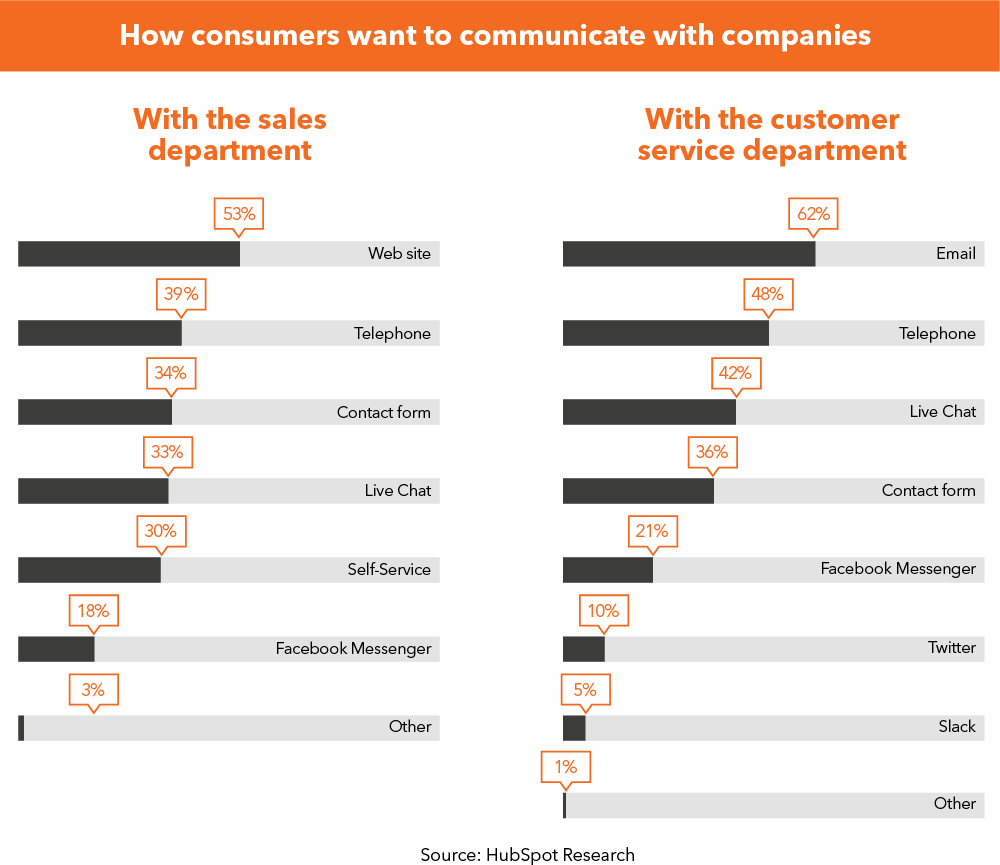 Four advantages of the e-mail channel
The use of e-mail happens for a few reasons. And they are good for both the consumer and the company. Here are a few:
Detailed Information
One of the advantages of e-mail is that the consumer can write in detail about the problem. There is no text limit and it can be revised several times, without haste, because the interlocutor is not online, waiting. E-mail is not a conversation. The customer has time to go into detail. For the company, this means having more elements to understand the situation and respond assertively, resolving the issue effectively.
You can send attachments
In addition to describing in detail, e-mail allows the consumer to send attachments. In a product complaint, for example, the person can send photos for proof.  They can also send a copy of the invoice and the warranty. For the company, in turn, the e-mail allows the sending of purchase catalogs, instruction manuals, and supplementary materials that guide the consumer on how to proceed or about his doubts about what to buy.
E-mail is a reliable channel
Believe us: a written text seems to carry more weight than a conversation on the phone. A complaint sent by e-mail gives the feeling that it has been documented and will be taken more seriously than if it had been reported verbally.  The same goes for a response from the company: given by e-mail it seems to carry more weight than said on the phone or in a chat room.
Easy access
Everyone has an e-mail set up on their cell phone or computer, which makes it an easy tool to use. For businesses, it can be used to supplement a service by sending a survey. Surveys can be conducted over the phone, of course. Email, however, is considered a non-intrusive method where customers can respond at their convenience.

Olos E-mail Tool
Olos E-mail is a customer service channel through electronic messages that can send and receive texts, attachments, prints, and pictures.
Our platform automatically opens the e-mails, analyzes the subject treated, and redirects the message so that it can be answered by the person in charge.  The distribution queue for human service is organized, with control.  The attendants can also use model answers, editing them as needed, before sending them. This greatly speeds up the process.
Another option provided by the Olos solution is the use of automatic responses, without prior analysis, to inform service deadlines, thank the contact, and even encourage the use of digital channels, if applicable.

Integrated communication
It is common for a client to start a conversation with a company through one channel and continue through another. With so many possible channels for customer service, the ideal is for the company to integrate them to consolidate the customer service journey, no matter which channels it takes place on.
OlosChannel is a solution that integrates various channels of care, in the text and voice worlds, Digital Agent, OWI, Chatbot (Facebook Messenger, Skype, Telegram, SMS, WhatsApp, etc.) and also E-mail, all in a single platform. This allows the use of the most efficient channels for each scenario, besides the identification of the customers' preferred channel, reducing complaints by unnecessary calls.
Upgrade your e-mail tool and integrate it with other relationship channels. Olos can help you design a communication strategy for your company.