Contact Center & BPO: more efficient management and improved customer experience
Omnichannel communication has caused a revolution in the contact centers of companies providing BPO – Business Process Outsourcing – services, a model in which a company is hired to perform activities for another company.
The ease and benefits achieved with omnichannel communication are so many that they place the service provided in another level. Any doubts?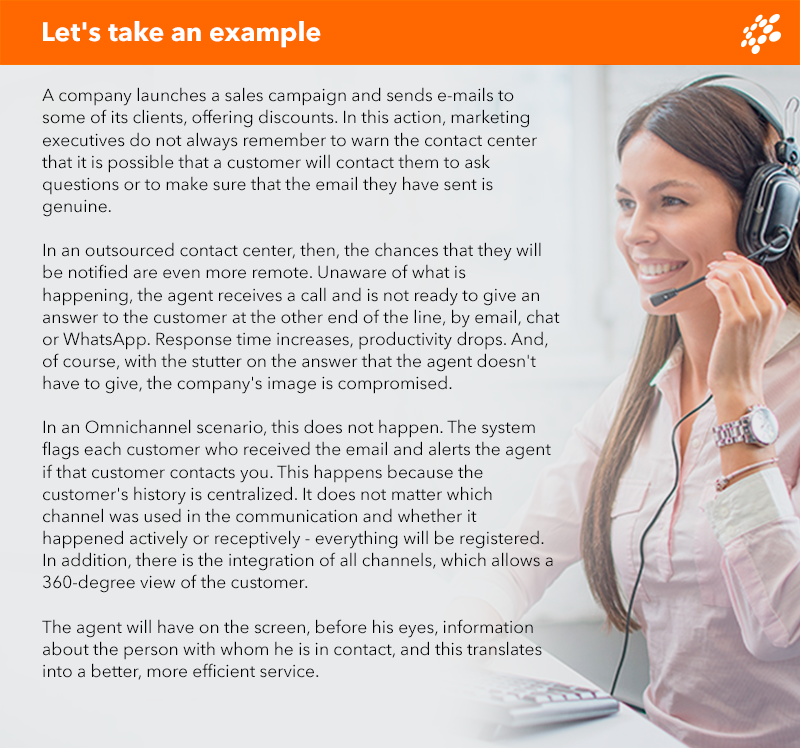 Outbound, inbound and blended customer service.
Integration of channels from voice and text worlds.
Information and control over the customer journey.
Control over productivity metrics.
Reduced service time and costs.

The OlosChannel omnichannel platform solves many contact center issues, such as:
Data at hand – Agents have quick access to customer information and their complete history.
Channel integration – In a single interface all channels are centralized, such as Facebook Messenger, WhatsApp, e-mail, phone answering service, SMS, etc.
Automation – If interesting, customer service can include automated and personalized communications.
Routing – Through automation, the omnichannel platform handles and redistributes phone calls among agents. And it alerts the customer of the waiting time.
Easy to use – The tools are intuitive, which makes the job easier especially for those agents who are remote.
Reports – Accountability for the work done by the contact center is paramount. Therefore, it is necessary to have at hand detailed and complete reports with daily volume, history, trending topics, and agent performance, among other KPIs.

The OlosChannel omnichannel relationship platform relies on advanced technology resources. Automation, Artificial Intelligence, customer service history storage, and data intelligence are some of them.
Its adoption will help manage the contact center more efficiently and productively. And for the customer, it will result in a better experience.